This past weekend I decided it was time for my first group ride in about 4 years and consulted with Mark at Precision Bikes who told me about a couple of groups that ride on Saturday mornings. I asked which one would probably be slower and ended up at Acadiana Park a little before 6:00am.
The great thing about triathlon is that you can jump in and participate on many levels. You can dabble and do a few sprints here and there or you can go super hard core and participate at the IRONMAN level and beyond. You can usually gauge ones level of commitment and where they fall in this range by their gear. When I arrived at the park, every bike was a late model carbon fiber tri bike with carbon wheels, carbon cages and all the other fancy stuff that only has a purpose for long grueling workouts. I began to think my consultant's perspective on fast and "slower" was probably not the same as mine. Also, no one there was fat.
As I pulled my road bike out of the back of my Yukon, I couldn't help but notice a few glances from the group as some of them discussed their IRONMAN distance race coming up the next weekend. I'll bet there was more than one of them thinking that this fat roadie got some bad information and showed up at the wrong place.  I immediately introduced myself to a few of the guys and informed them that Mark told me about their group. That way it obviously wasn't my fault if I didn't fit it. Everyone was nice and I found out that most of the group planned for a 2 hour out and back ride.
I quickly formulated at plan. Draft my ass off, hang on as long as I could, and then turn around and head back at my own pace. Solid plan.
After a few miles of casual riding everyone got in a pace-line and things progressed according to plan quicker that I thought. As you can see in the figure above, after a short time at 23 mph my heart rate blew up and off the back I went. I resigned myself to the situation and decided to turn around at the next intersection. I would still get in a good ride.
When I rounded the corner before my turnaround, I found that the group was waiting for me. "Crap." I caught up, expressed my appreciation for them waiting, and told them it wasn't necessary because I was going to turn around soon. Evidently no one liked my plan very much. I could tell by the way they talked about how close the turnaround was. Of course, 4 miles to the turnaround is another 8 miles on the ride. This may not sound like much, but keep in mind that my best ride in 4 years is 16 miles at about 15.5 mph average speed.
So, I made to to the turnaround, rested for bit, and was dropped within the first 2 miles of the return trip. I feel like is worth mentioning that at this point the most offensively smelling garbage truck ever passed me sloshing a continuum of eau de funk along the road, thus providing miles of sensory stimulation. Perfect.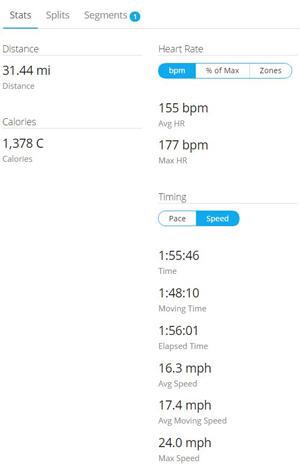 Once again I was back on the plan riding at my own pace. A couple of intersections later, there they were waiting again. So much for plans and a comfy heart rate. I managed to keep up for the rest of the ride, said my goodbyes, and limped home to recover. Overall a great workout.
In reflection, this is a good example of why it is important to surround yourself with people better than you with regards to a goal you are trying to achieve. There is no way I would have pushed myself to go as far or as hard if I did not have the group as a source of both internal and external expectations. This is one of those things we know (mom told us)  but often forget, and while professionally it may take years to see hard evidence of this effect, on a ride like this, we can see the effect in a couple of hours. Life lessons through shorter suffering!
Thanks so much to Marcus et al.  and I hope I didn't slow you down too much. You probably need to find someone better to ride with.